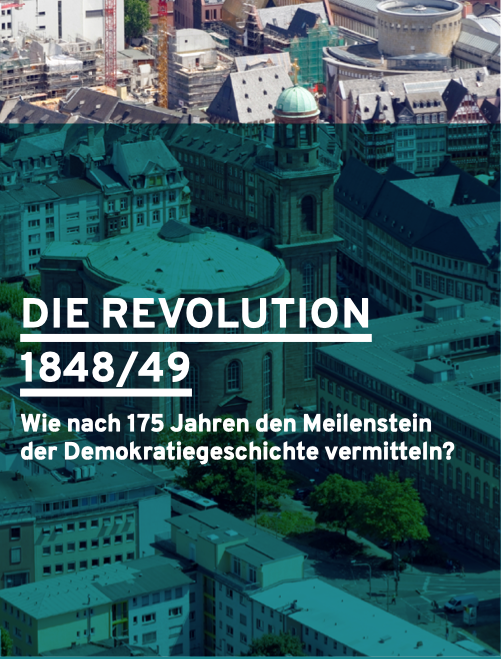 Tagung
Thu, 22. September 2022 —— 10:00
Conference of the Memorial Cemetery of the March Fallen (Gedenkort Friedhof der Märzgefallenen) in cooperation with the Federal Archives Memorial Site for the Freedom Movements in German History (Bundesarchiv-Erinnerungsstätte für die Freiheitsbewegungen in der deutschen Geschichte), the Historical Museum Frankfurt (Historisches Museum Frankfurt) and the KulturRegion FrankfurtRheinMain.

Open societies are fragile. This is again becoming evident today. The second symposium of the anniversary network "175 Jahre Revolution 1848/49" discusses favorable and dangerous facotrs for the initiation and consolidation of democratic processes. Which actors promoted promoted liberties, broad political participation and social justice, and which stood in their way?
More information on the conference can be found hier.

Leopold Sonnemann Hall
Participation is free of charge.
We ask that you register by 9/19/2022 at: anmeldung@paulsinger.de

What to look out for during your visit can be found here.
Die Tabelle stellt eine Monatsübersicht über den jeweiligen Monat dar. Die Spalten sind nach Wochentagen aufgeteilt. Die Tage, an denen Veranstaltungen stattfinden, sind verlinkt.
November 2022

| Mon | Tue | Wed | Thu | Fri | Sat | Sun |
| --- | --- | --- | --- | --- | --- | --- |
| | 01 | 02 | 03 | 04 | 05 | 06 |
| 07 | 08 | 09 | 10 | 11 | 12 | 13 |
| 14 | 15 | 16 | 17 | 18 | 19 | 20 |
| 21 | 22 | 23 | 24 | 25 | 26 | 27 |
| 28 | 29 | 30 | | | | |