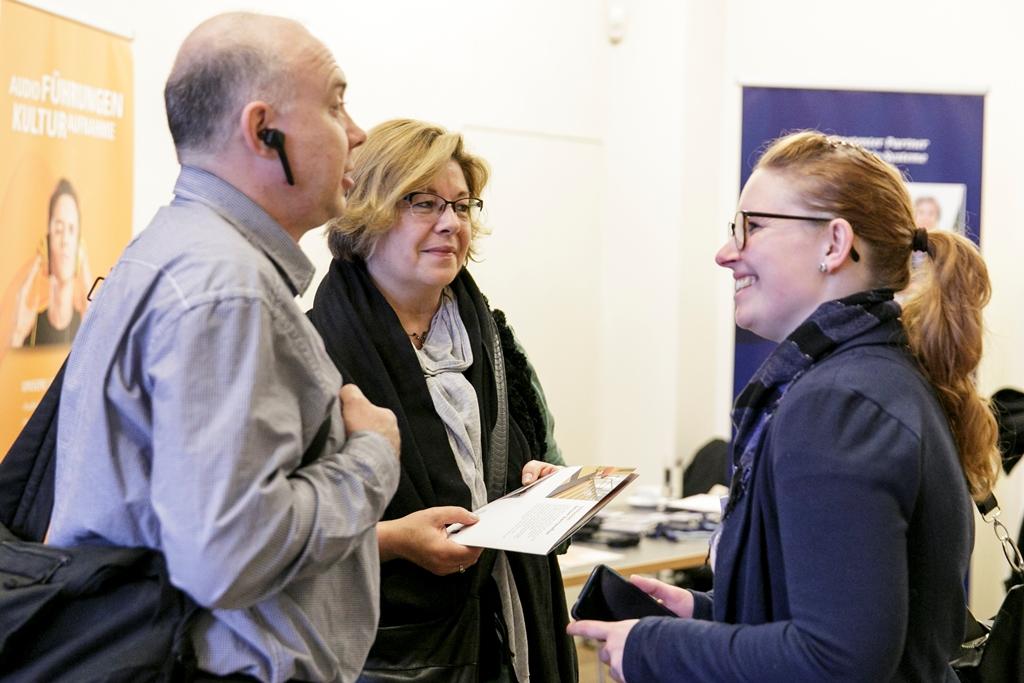 Day of Action: Visually impaired in the museum, June 6, 2018
As part of the "Inclusive Museum" project, the museum has developed numerous offers for people with visual impairments in close cooperation with the association. During the event, a guidance system for the service and exhibition areas, tactile models, touch objects, as well as a new audio-descriptive tour on the museum's multimedia device could be tested and discussed. After the project presentation, the organisers extended a "round table" invitation. Here, Frankfurt's museum educators, wanting to set out on their own to develop offers for the visually impaired, could meet with experts to exchange ideas.
Programmme
11 a.m. Presentation of the "Inclusive Museum" project
Leopold Sonnemann Hall
Anne Gemeinhardt, Historical Museum Frankfurt
Susanne Reith, Association for the Blind and Visually Impaired in Hessen e.V.
Tour of the exhbitions
1 p.m. Round Table "Visually Impaired in the Museum"
Leopold Sonnemann Hall
Concepts, ideas and stumbling blocks will be discussed.
3 p.m. Handover of the "Historisches Museum Frankfurt" tactile model
Museum Square
Prof. Dr. Heinz Riesenhuber, former Federal Minister of Research for the Frankfurt Rotary Clubs and other donors
4 and 6 p.m. Dialogue tour "With different eyes"
Meeting point: Museum foyer
The curator Anne Gemeinhardt and the blind museum expert Annalena Knors will guide you through the exhibition "Frankfurt Once?"
Sponsors of the project
Hessisches Ministerium für Soziales und Integration, Referat UN-Behindertenrechtskonvention
Stadt Frankfurt am Main, Dezernat für Soziales, Senioren, Jugend und Recht
Rotary Frankfurt
Hessischer Museumsverband
Ursula Ströher Stiftung
Freunde & Förderer des Historischen Museums Frankfurt
Stiftung Polytechnische Gesellschaft Frankfurt
Cooperation partners
Stabsstelle Inklusion der Stadt Frankfurt am Main
Literaturhaus Frankfurt
Netzwerk Inklusion Frankfurt
blista (Deutsche Blindenstudienanstalt) e.V., Marburg
Blinden- und Sehbehindertenbund in Hessen e.V.
Frankfurter Stiftung für Gehörlose und Schwerhörige
Praunheimer Werkstätten gGmbH
Lebenshilfe Frankfurt e.V.
Contact person at the Historical Museum:
Anne Gemeinhardt
, Curator for Education and Mediation
Further projects concerning the inclusive museum
Preliminary to the conference "With all senses – the inclusive museum", more than 70 museums, associations, universities, companies and scientists applied with a call for paper.
The diversity of the projects submitted shows how many institutions are actively promoting more participation and equal rights for disabled people. On this page you can learn about the innovative and successful projects on inclusion and accessibility in museums that were submitted as part of the Call for Papers.
The Imposition of Hearing
As part of the exhibition "Möglichkeit Mensch" (Zeppelin Museum), the local ZeppLab was transformed into a hearing room with interactive stations to discuss topics such as hearing, deafness and hearing loss as well as new technologies such as the cochlear implant.
University of Konstanz, DFG Research Group "Mediale Teilhabe. Partizipation zwischen Anspruch und Inanspruchnahme", Prof. Dr. Beate Ochsner, Dr. Markus Spöhrer, M.A. Robert Stock,
robert.stock[a]uni-konstanz.de
Inclusive cultural mediation at the Kunstmuseum Bayreuth
The Kunstmuseum offers guided tours for each of the four annual temporary exhibitions, which are also addressed to visually impaired and blind as well as deaf and hard-of-hearing visitors. Selected exhibits are described with tactile copies and models.
Kunstmuseum Bayreuth
, Philipp Schramm,
sammlung[a]kunstmuseum-bayreuth.de
Active participation of people with disabilities
The Rundfunkmuseum Fürth has employed a trainee with Down's syndrome since March 2015. Leonhard Ley supports the museum team in many ways: he pays attention to cleanliness, puts flyers in envelopes, takes over parts of guided tours and participates in events.
www.rundfunkmuseum.fuerth.de
Agency for inclusive competence development
On the way to becoming an inclusive museum, initially mind barriers have to be removed and inclusive competence must be developed at all levels. For this purpose, we offer practical seminars, closely oriented to the everyday work routine to embed a sustainable culture of inclusion in your institution.
MehrWert Inklusion
, Bea Gellhorn,
gellhorn[a]mehrwert-inklusion.de
Guided tours in easy language
Space and Disability. Perception and construction from a spatial sociological perspective
The author Marie-Theres Modes uses interdisciplinary perspectives to discuss how spaces influence and change interpretations of disability. What characterises spaces are perceived as inclusive? How can inclusion be thought of as a complex process of perception?
Publikation beim Transcript Verlag
"Soft Skills" in the inclusive museum
A plea for the preparation of the museum staff to meet various visitors, as mind barriers are the greatest challenge on the road to inclusion, next to barrier-free architecture and intermediation.
MosGiTo
, Gisela Moser,
info[a]mosgito.de
"CityMuseum Inclusive, participate – do not impede!"
The project is funded by the Federal Cultural Foundation in the Stadtgefährten fund. Cooperation partners are the Werkstätten für Behinderte Rhein-Main e.V., the Rüsselsheimer Kunstverein e. V. and the Bundesakademie für Kulturelle Bildung Wolfenbüttel.
Stadt- und Industriemuseum Rüsselsheim
, Projektleitung M.A. Cornelia Röhlke,
Cornelia.Roehlke[a]ruesselsheim.de
Sharing the Museum – Inclusive Education at the Weltkulturen Museum Frankfurt